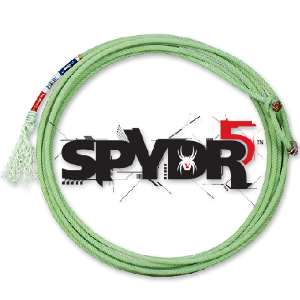 Manufacturer: Equibrand Corp
Classic® Rope's legacy of team rope innovations continues with the five strand Spydr team rope. The Spydr is the latest addition in Coretech technology from Classic® Rope. So slim it appears light, but don't be deceived. The Spydr's five strand weave packs more material in a smaller diameter for a feel like nothing else. With five strands of twisted nylon ingeniously engineered around an oversized core, the Spydr delivers the perfect balance of snap and tip weight to make it the ultimate trap for your prey.
Manufacturer: Equibrand Corp
The Heat is the next generation four strand technology from Classic® Rope. Made from a blend of custom fibers and intricate twists, The Heat has set a new standard in rope feel and performance. Designed for today's aggressive roping styles, The Heat provides a loop that is packed with body. Even in forced situations, the tip remains ahead of the swing for a more controlled and confident delivery. Lightweight and built for performance, The Heat is built to take punishment.
Manufacturer: Weaver Leather
Model Number: 705
This is the same quality-made, original Weaver halter you've come to know and love! With top quality 1" nylon construction, heat-sealed oblong buckle holes, box-stitching at stress points and true-to-fit-sizing, this will be your go-to halter. This simple, non-adjustable design features a comfortable rolled throat and brass plated hardware.
We are constantly adding new specials to our site. Be sure to check back often!